Recently we had a customer inquiry:
Recently, I ordered Days Go By workbook for my child. Today, while I was looking through the book, it mentioned additional teacher's manual pages that should be at the back of the book. (Confusing, I know). For some reason, the publisher did not put the additional pages in the back of the book. The pages are the teacher's part of the "Learning Through Sounds" section of the book.
So I asked Pathway Publishers (via snail mail since they're Amish and have no phone):
In looking in a Days Go By workbook, I see in the back that "Notes to the teacher are also included at the bottom of page 80 and inside the back cover." So I turn to page 80 and learn that "Since pages 57-80 have not been included in the Teachers' Edition of Days Go By workbook, notes to the teacher and other necessary information are printed here." So far so good. And the bottom of page 80 has notes pertaining to pages 57-59. Alas, the back cover is blank. Please clarify matters for us.
We just got their answer. Here's the explanation for the omission:
The printer left the back cover blank by mistake.
Thankfully, they provided me with the missing information. Click this graphic to see the full thing: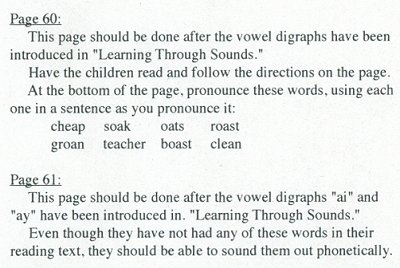 (Repeat: click the above graphic to see the full thing. The graphic above shows only a small portion!)
Topics: Customer Service | No Comments »
Comments