Two books, two publishers, one title: The Doctrine of Salvation.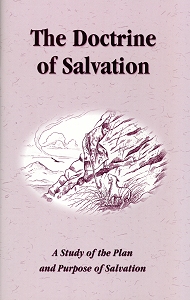 An inspiring study of the central theme of the Scriptures in twelve lessons. Valuable for personal Bible study or group study in congregational or Bible school settings.
Table of Contents:
* Human Depravity — The Sentence of Death
* Redemption — The Price of Restoration
* Substitution — Jesus, Our Sin Bearer
* Propitiation — Justice Is Satisfied
* Repentance — The Response of Faith
* Regeneration — Born from Above
* Reconciliation — The Restored Relationship
* Justification — Our Position in Christ
* Sanctification — The Progressive Walk in Christ
* Adoption — The Privilege of Sonship
* Assurance and Continuance — Security in Christ
* Glorification — The Ultimate in Christ
77 pages. Eastern Mennonite Publications.
Published in 1995.
For more details as well as the option to buy: The Doctrine of Salvation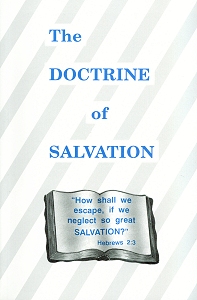 The writer begins with the depravity of fallen man and progresses step by step through repentance, faith, pardon, justification, adoption, regeneration, sanctification, growth in grace, and holiness. He concludes with the completeness and security of the child of God in Christ Jesus.
For the serious Bible student who is searching for the hidden, precious, and deep things of God.
Table of Contents
1. Depravity
2. Repentance
3. Faith
4. Faith Imputed
5. Pardon and Forgiveness
6. Justification by Faith
7. Justification by Faith Only
8. Adoption
9. The Witness of the Spirit
10. Regeneration and Sanctification
11. Growth in Grace
12. Holiness
13. The Two Agencies
128 pages. Rod and Staff Publishers. Stephen Merrill.
Published in 1993.
For more details as well as the option to buy: The Doctrine of Salvation
Topics: Featured Products | No Comments »
Comments