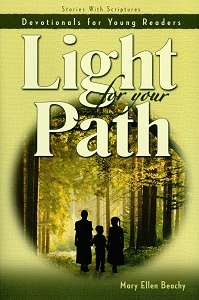 A faithful preacher escapes from prison with the help of angels…a young kidnapped boy refuses to do wrong…a crippled girl faces robbers along a lonely road in Belize. These true stories and more are all found in Light for your Path.
Inside you will find stories promoting honesty, obedience, courage, and humility. You will also meet godly role models as well as those who have learned painful lessons.
Each story ends with a suitable Bible verse to draw the young heart to the truths of Scripture. This book is ideal for use in family devotions or discussions involving young children.
We trust your family will be nourished by Light for Your Path. Through it we hope your heart will be drawn to God, who is able and willing to take care of every detail of your life.
246 pages. Vision Publishers. Mary Ellen Beachy.
Published in 2008.
For more details as well as the option to buy: Light for Your Path
Topics: New Products | No Comments »
Comments