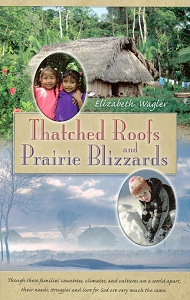 Dominga and Santiago live with their children in Belize, a country of steamy hot days, colorful parrots, and tall palms. Sometimes hurricane winds howl across their country, destroying buildings and flattening trees. Their home has board walls, a dirt floor, and a thatched roof. Dominga makes tortillas in a smoky cooking house and washes clothes on a rock beside a water pipe. Santiago raises crops year-round for food and works on the banana plantation. The children gather firewood, shell corn, and swim in the river.
Karen and James live with their children on the Canadian prairies where the growing season is short and winters are bitterly cold, with blinding blizzards and deep drifts. Their sturdy home has well-insulated walls. In spring, wild geese fly overhead and robins visit their yard. Karen fries fresh sausage links in her kitchen and hauls the children to school. James works in the grain field and feeds cattle. The children feed baby chicks, go sledding, and drive toy tractors.
260 pages. Christian Light Publications. Elizabeth Wagler.
Published in 2007.
For more details as well as the option to buy: Thatched Roofs and Prairie Blizzards
Topics: New Products | No Comments »
Comments