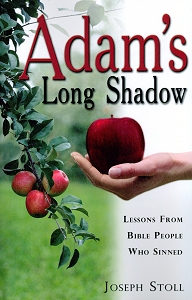 We learn from our mistakes. Such learning is part of life. But we also learn from the mistakes of others. We even learn from the mistakes of people who lived long before our time. We take warning from those who fell. Because someone else stumbled, we watch our own steps more closely.
We can learn much from the lives of Bible characters. Some of them made wise choices. Some of them did not. At times, it seems, we learn best from negative examples. In this book we admittedly focus on those. Yet, the object goes far beyond storytelling; our quest is a serious one. We seek moral direction for our own lives. We pray that God will preserve us from sinning as others have sinned. Although we present many lessons from a negative perspective, we trust our readers will apply them to their own lives in a manner that is overwhelmingly positive.
136 pages. Vision Publishers. Joseph Stoll.
Published in 2008.
For more details as well as the option to buy: Adam's Long Shadow
Topics: New Products | Comments Off on Adam's Long Shadow
Comments are closed.