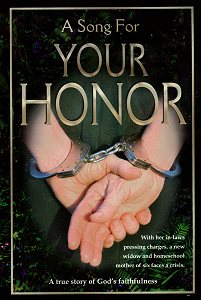 As Kay bent over Ron's face, snowflakes blew in through a crack in the tent and gathered on his eyelashes. She brushed them off. Ron's cheek felt as cold to her touch as the snow.
After each of her six children peered briefly at their daddy's face in the casket, the grieving family left the little tent and headed, shivering, toward the van, the snow crunching under their feet. Ron's death was only the beginning of their grief and trouble.
Ron and Kay had tried to instill in their children a reverence for God and His Word and to shield them from ungodly influences. Ron's parents felt their grandchildren were being warped and deeply resented Ron and Kay's decision to limit the children's contact with their grandparents. Tensions escalated.
When her in-laws filed charges, the desperate mother fled. How long could they stay hidden? Kay prayed for direction and asked for advice.
"Kay," a lawyer said firmly, "the time of decision has passed. You cannot go back."
With private investigators on their trail, the family fled the country.
461 pages. Paperback. Christian Light Publications. Kay Evans.
Published in 2005.
For more details as well as the option to buy: A Song For Your Honor
Topics: Featured Products | 3 Comments »
3 Responses to "A Song For Your Honor"
Irean Landis Says:
June 24th, 2009 at 8:30 am

I very much enjoyed the book A Song For Your Honor, Is there a way to e-mail Kay directly to express my feelings as I read the book? I know she kept her real identity a secret, but I thought maybe she has a web site in her pen name. I would appreciate any help on this. Thank you and Gods Blessings, Irean Landis

Jocelin Boutet Says:
January 22nd, 2010 at 11:11 am

I was wondering if there was any way to find out an update on Kay and her family? Her story was a beautiful one of a mom who dearly loved and defended her family. Thank you!

~Jocelin Boutet

Mark Roth Says:
February 16th, 2010 at 11:58 am

Did you see this one from 2008: Sad Sequel?
Comments