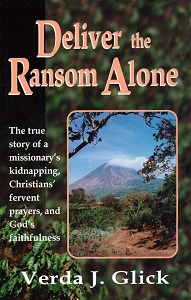 Verda was concerned. Eli still wasn't home.
When Ernest's pickup truck pulled into the driveway, she knew something was very, very wrong. She rushed to the door. "What's the matter?" she called fearfully.
"Mama," Ernest said as he strode towards her, "There's a problem."
Kidnapping was a nagging possibility in politically troubled El Salvador in the early 1990s. One night it became a reality to the Eli Glick family.
But this is more than a gripping missionary story. It is a thrilling testimony to the power of prayer. As word sped from family to church, across Central America, and into the States and other countries, many fervent prayers were offered — prayers for Eli's deliverance, for his kidnappers, and for the honor and glory of God through it all.
This true account will touch your heart and strengthen your faith.
173 pages. Paperback. Christian Light Publications. Verda J. Glick.
Published in 1999.
For more details as well as the option to buy: Deliver the Ransom Alone
Topics: Featured Products | No Comments »
Comments