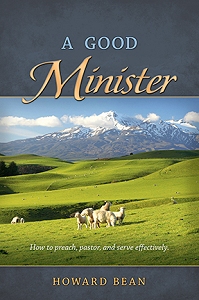 Anabaptists in the twenty-first century are known to be good craftsmen, good farmers, good entrepreneurs, and good neighbors. Are they good ministers?
When facing a new calling, needing some how-to advice, or wanting to become more effective in your ministry, what a blessing to have a wise and seasoned servant to call on for advice. Such a person may not always be available. A Good Minister can help meet that need.
This handbook for conservative Mennonite ministers addresses many important subjects, from the importance of a minister's spiritual life, to preparing sermons, to his multiple roles as a pastor, teacher, counselor, leader, comforter, and Christian example.
Written from the heart and life of an experienced minister, A Good Minister provides warm, practical, and inspirational counsel for the newly ordained, veteran ministers, or anyone with Christian leadership responsibilities. A Good Minister will be an appreciated and helpful reference.
344 pages. Christian Light Publications. Howard Bean.
Published in 2009.
For more details as well as the option to buy: A Good Minister
Topics: New Products | No Comments »
Comments