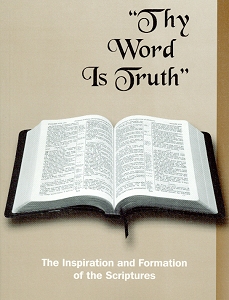 What is the Bible? People have died because they followed its teachings. Some have been forced to leave their homes and families because they refused to disobey it. Others have worked and saved for months — and even years — to lay aside enough money to buy one. Governments have tried to destroy it, yet it remains the most popular book ever printed. Scientists have branded it outdated and foolish, yet it continues to outsell their scientific books. It is one of the world's oldest books, yet people constantly use it to find answers to today's problems. Why?
"Thy Word Is Truth" tells the story of the formation of the Bible. It describes its inspiration and the processes that culminated in the translation of the Bible that you own today. Your faith will be deepened as you study this book and ponder the miracle of the Bible.
166 pages. Paperback. Rod and Staff Publishers. Lester Bauman.
Published in 2005.
For more details as well as the option to buy: "Thy Word Is Truth"
Topics: Featured Products | No Comments »
Comments