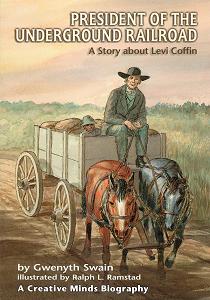 Levi Coffin's family was a perfectly normal Southern farm family, except for one thing. They didn't own slaves.
Still, Levi was surrounded by the cruelty of slavery. The animals on his farm were treated much better than most slaves. Levi wondered if he would ever be old enough or brave enough to help slaves gain freedom.
By the 1830s, he had begun hiding runaway slaves and directing them to other safe houses further north. Soon his home was part of a network of houses known as the Underground Railroad, and Levi had earned the nickname "President of the Underground Railroad."
64 pages. Carolrhoda Books. Gwenyth Swain.
For more details as well as the option to buy: President of the Underground Railroad
Topics: Featured Products | No Comments »
Comments