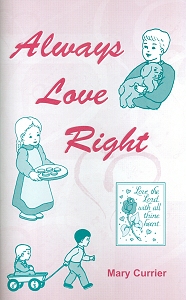 This little activity book reminds children to…Always Love Right.
Are your children learning to love God and others?
Do the following characterize their behavior?
* listening and answering respectfully
* obeying cheerfully
* sharing unselfishly
* working willingly
* playing peacefully
* making others happy
* pleasing God
The activities in this book demonstrate the joy of loving unselfishly.
53 pages. Christian Light Publications. Mary Currier.
Published in 2009.
For more details as well as the option to buy: Always Love Right
Topics: New Products | No Comments »
Comments