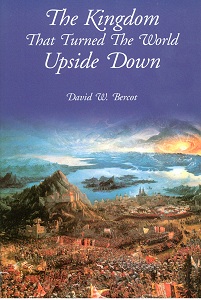 If someone were to ask you what was the theme of Jesus' preaching, what would be your answer? Man's need for salvation? God's love for mankind? The new birth?
To be sure, Jesus spoke about all of those things. And they're all essential truths. But none of them were the theme of His teaching. The theme of Jesus' message was the kingdom of God.
The message of the kingdom is missing from the gospel that's preached today. As a result, many Christians don't realize that the kingdom of God is a present reality on earth. They don't even know what the kingdom of God is. Consequently, they never make the kingdom commitment that Christ requires.
In The Kingdom that Turned the World Upside Down, David Bercot takes the reader back to Jesus' teachings of the kingdom-teachings that have too often been forgotten. Bercot describes the radically new laws of the kingdom and its upside-down values. There's no room in Christ's kingdom for superficial Christianity, for this is a kingdom that has historically turned the world upside down.
281 pages. Paperback. Scroll Publishing. David W. Bercot .
Published in 2003.
For more details as well as the option to buy: The Kingdom That Turned the World Upside Down
Topics: Featured Products | No Comments »
Comments