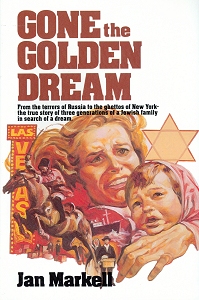 The true story of a Jewish family, facing terror and death in Russia, who begins the search for the "golden medineh."
Eliezer, young husband and father-to-be, is the first Leshenotsky to leave his peasant home. Surviving a three-week walk through a Siberian winter and an incredible ocean crossing, Eliezer arrives in America. He is able finally to save enough from his laborer's earnings to send for his wife and the little son he has never seen.
Golda's dreadful voyage with small Joseph comes to an end in the uncertainty and humiliation of the Ellis Island immigrant processing. But the Leshenotskys, finally reunited, are certain that now the dream will come true for them in America.
171 pages. Paperback. Bethany House Publishers. Jan Markell.
For more details as well as the option to buy: Gone the Golden Dream
Topics: Featured Products | No Comments »
Comments