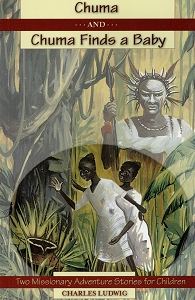 The introduction of Jesus to an African village in the land of Bunyore wins Chuma, the witch doctor's daughter. With Jesus in her heart, Chuma's hate for Oraka turns to love, and she brings her sister to Jesus.
But the cruel tribal customs of abandoning a twin baby embroils Chuma in a struggle against Baku, the witch doctor, who defends the wicked customs of the village people. Will Chuma's faith in Jesus save the baby's life?
152 pages. Paperback. King's Bookshelf Publications. Charles Ludwig.
Published in 1954 & 1956, two in one reprinting 2001.
For more details as well as the option to buy: Chuma and Chuma Finds a Baby
Topics: Featured Products | No Comments »
Comments