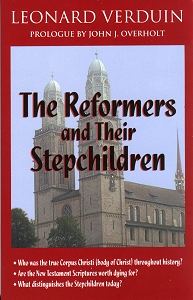 The stepchildren of the Reformation were called many things by the Reformers: Donatists, staff-carriers, heretics, sacramentarians, Wincklers, Anabaptists, communists, and agitators. The author devotes a chapter to each aspect of Anabaptist faith and life suggested by these terms of reproach.

The rift between them and the Reformers "was the result of a problem that perenially besets the Church of Christ, the problem of how to relate that Church to its environment."

The Anabaptists receive sympathetic treatment by the author in part because "history has to a large extent demonstrated that they were in a large way right. Little by little, step by step, item by item, Protestantism has, at least in the New World, come to endorse the very emphases for which these men pioneered."

292 pages. Paperback. The Christian Hymnary Publishers.