DISCONTINUED
Contact us to special order.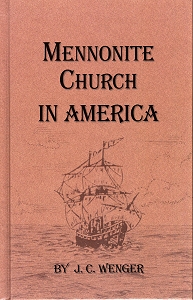 This book tells the story of the coming of the Mennonites to America and their life and experience in the North American continent during the two hundred fifty years and more they have lived in the United States and Canada. It is a sequel to the book by John Horsch, Mennonites in Europe.

The story of the Mennonites coming to America during the past two hundred fifty years and their settlement in the great land of freedom, progress, and prosperity, both south and north of the Canadian border, is one of the happiest stories out of Mennonite history. For here, for the first time, the Mennonites found a land where they could have full freedom of conscience, full opportunity to develop the genius of their faith and life, and free privilege for expansion, internal migration, and organization. More than that, for the first time they did not feel the pressure of a surrounding society which was in opposition to their basic principles.

384 pages. Hardcover. Eastern Mennonite Publications.

Published in 2003.