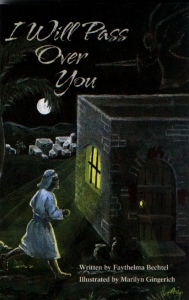 A fictional account of a Hebrew boy and his Egyptian friend at the time of the Passover, through the Exodus, up to the conquest of Jericho.

* * * * * *

Dan stood for a moment shaking his head as though trying to shake the words from his ears. God would kill him if his father didn't put the blood on the doorposts. Suddenly, he thought of Rabel. Rabel, like himself, was fourteen. And Rabel, like himself, was the firstborn. Rabel would be killed! Blindly Dan ran through the crowd, then up one street and down another.

* * * * * *

Rabel longed to go with Dan, but how could he leave his family? Surely his father was right when he said no one had enough power to kill all the firstborn of Egypt. But Dan's God was powerful. Rabel believed He could do almost anything. But would He, could He, love an Egyptian boy?

* * * * * *

Tears trickled down Dan's cheeks as Ashu killed the lamb. He watched as his father sprinkled blood on the doorposts. That blood would keep him from being killed tonight. But what about Rabel? Dan wished he could drag Rabel to his house. But tonight he could not go and plead with Rabel. His father had made sure that the whole family was inside, and had shut the door. Oh, why didn't Rabel come where he could be safe?

160 pages. Paperback. Bechtel Books.

Published in 2003.