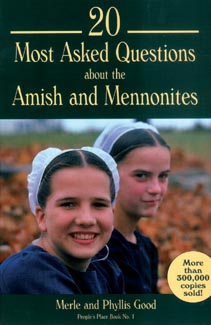 There are dozens of varieties among the Amish and Mennonite groups around the world. Words like "always" and "never" seldom apply in describing the whole Mennonite-Amish family. On most of the topics covered in this book, there are many shades of belief and practice among the various groups.

This book sensitively answers the most common inquiries about Amish and Mennonite peoples. Authoritative, sympathetic, and thorough, 20 Most Asked Questions looks at origins, dress, pacifism, education, weddings, funerals, and food, as well as many other facets of Amish and Mennonite life.

Accurate, introductory information about Mennonites and Amish, and their history and teachings.

People's Place Book #1

95 pages. Paperback. Good Books.
---
Table of Contents
What is the difference between the Amish and the Mennonites?
When and how did these people get started?
Are they a Christian group or do they represent a different religion?
Aren't they a bit naive and backward? Why don't they accept modern things?
Does anyone ever join them? Does anyone ever leave?
Why do they dress that way?
Is it true they don't go to war?
Why are they against education?
Why are they such good farmers?
Why don't they pay Social Security taxes?
Do any of the Amish or Mennonite groups believe in missions?
What are their weddings like?
How are their women and children treated?
Is food a part of their religion?
Do they go to doctors and hospitals?
What about burial?
Don't they believe in having fun?
What are some of their problems?
Are they growing or dying in number?
What, in fact, holds them together?
---
"Persons wanting accurate, up-to-date, introductory information about Mennonites and Amish will want to purchase 20 Most Asked Questions for themselves and for giving to folks who want short yet reliable answers about our people. 20 Most Asked Questions superbly gives honest and up-to-date information. The questions reflect sensitivity and are shared attractively and understandably.
"20 Most Asked Questions not only accurately presents the history and teachings of various Mennonite and Amish groups but also offers prophetic insight." -- Pennsylvania Mennonite Heritage
"Though designed primarily as an introductory book for non-Mennonites, this highly-readable work contains a wealth of fascinating tidbits even for people who have lived in Mennonite communities all their lives." -- Mennonite Weekly Review