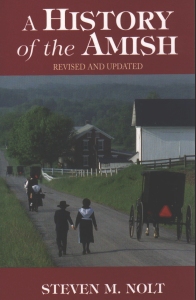 The Amish, one of America's most intriguing peoples, have survived for 300 years! While much has been written on the Amish recently, little has appeared about their history.

This book brings together for the first time in one volume a thorough history of the Amish people. From their beginnings in Europe through their settlement in North America, the Amish have struggled to maintain their beliefs and traditions in often hostile settings.

Atlantic crossings, westward migration, military conscription, and compulsory school laws were just a few of the many challenges to the Amish church through the years. Caught in the currents and conflicts of national life, the Amish have remained a distinct people in America's melting pot.

Authoritative, thorough, and interestingly written, A History of the Amish presents the deep and rich heritage of the Amish people. Includes a substantial bibliography for further reading and study. Dozens of illustrations.

317 pages. Paperback. Good Books.
---
Table of Contents
The Reformation Heritage of the Amish
Amish Beginnings, 1693-1711
Maintaining the Church: The Amish in Europe, 1693-1801
Settlement and Struggle in the New World: The Amish in 18th Century Pennsylvania
A Time of Testing: The Amish in Europe, 1790-1861
Prosperity and Promise in North America, 1800-1865
Years of Division, 1850-1878
The Merging of Two Peoples: Amish Mennonite Union With the Mennonites in North America and Europe, 1870-1937
Preservation and Perseverance; The Old Order Amish, 1865-1900
Challenges of a New Century, 1900-1945
Peoplehood in a Changing World: Amish Life Since 1945
---
"The author successfully presents the entire history of the Amish since 1525 while avoiding both the overly sentimental approach of much popular writing and the anti-Amish bias of the rest." -- Library Journal
"A book that will make Amish history more interesting and approachable for the general public, and that will advance the task of Amish historical studies by summarizing and synthesizing scholarship to this point." -- Mennonite Historical Bulletin
"This work offers a broad view of the Amish while plunging deep enough into specific issues to give readers a sense of having some genuine understanding of the deep convictions that bind this group together. Additionally, this book is well-illustrated with photographs, maps, and charts and is written in an enjoyable and accessible style." -- Bookstore Journal
"A History of the Amish is delightfully easy to understand, packed with photos, illustrations, and sidebars that give the reader a good feel for the sights and words of Amish communities both current and historical. Nolt goes to great lengths to explain the context in which Amish beliefs have developed, making this church, which has traditionally shunned publicity in favor of what they call 'the humble life,' infinitely less mysterious." -- Friends Journal
"His book demonstrates a fine command of the material, a well-balanced selection and overview of the sources, and a graceful, readable style of expression." -- Pennsylvania Mennonite Heritage