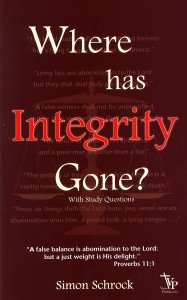 We live in a dishonest society! From children to parents, from homes to schools, from church leaders to government officials, honesty and integrity are often missing. The breakup of marriages, the disintegration of families, shattered friendships, church division, and the moral decline of our society can be traced in large measure to dishonesty and the loss of integrity.

If you are serious about integrity, and want to live a life which brings honor and glory to God, the message of this book will encourage and strengthen your conviction. Study questions are included at the end of each chapter.

If you are caught in the habit of dishonesty, read on. This book will help you to repent of your sin and live a life of integrity.

100 pages. Paperback. Vision Publishers.

Published in 2001.