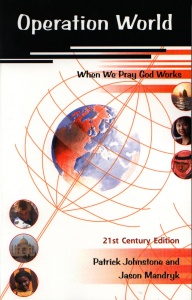 The most accurate and widely used resource for world prayer. Its pages are packed with fuel to pray for every country in our world. Whether used individually or collectively, this book gives the opportunity to pray intelligently and earnestly for our world in the 21st century.

Now with answers to prayer from previous editions, we can really see that God works when we pray.

This reasource is for every Christian who cares for people in their world. Now is the time to make a difference!

Concise information on every country from a Christian perspective. Geographic, cultural, economic, and political statistics. Survey of global situations in the 21st century. Calendar format to assist systematic prayer.

800+ pages. Paperback. Paternoster Publishing.

Published in 2001.

Special Note: This reduced price is for the 21st Century Edition, copyright 2001, ISBN 1850783578.