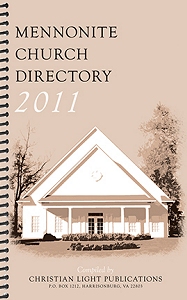 A directory of congregations and ordained leaders of the Mennonite Church who are teaching and practicing the doctrines of the Scriptures as historically held by the Mennonite Church.

Here you will find non-Conference, fellowship, unaffiliated, and independent Mennonite churches no longer listed in the Mennonite Yearbook.
Geographical directory of congregations
Directory of church groups and conferences, with congregations in each group
Directions to the meeting houses
Ministerial directory giving names, addresses, and other information for bishops, ministers, and deacons
Other miscellaneous information (such as publishers, mission boards, and Bible schools)
221 pages. Spiral-bound paperback. Christian Light Publications.
2011 edition
Special Note: This reduced price is for the 2011 edition only.
---
Publisher's Note
We are happy to present this information as a useful reference source. It is not intended to classify churches, or to imply organizational ties between any of the groups listed.
In these days of moral decadence and spiritual apostasy, it is our desire to uphold the doctrines of the Scriptures as historically taught by the Mennonite church; such as

separation from the world
nonresistance
separation of church and state
permanence of marriage
the Christian women's veiling
moral purity
leadership of man
Our goal is to include in the book those churches whom we understand to be practicing the same and whose teachings are most alike.

Link to this page: http://www.anabaptistbooks.com/catalog/titles/140.shtml