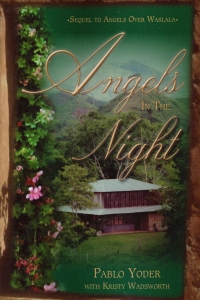 Angels in the Night
Pablo Yoder
Suddenly Kiria pointed toward our house in the valley. "What's that?" They gazed in wonder at the glowing pillar of cloud hovering over the shed beside the house. "They're angels!" Kiria announced breathlessly. Kiria saw them plainly -- outstretched wings, glowing legs...
The Holy Spirit and the Holy Life, Chester K. Lehman -- This book (the Conrad Grebel Lectures of 1957) teaches how God's Holy Spirit transforms a sinner into a saint. A study of two interweaving threads of Biblical teaching is pursued: first, the nature of the Holy Spirit's work in man; and second, the character of the holy life.

Sunshine Through the Storm, Rhoda Bontrager -- A tornado catches ten-year-old Joel and his family by surprise. So do all the friends who arrive to help afterward. Their helpers are their sunshine through the storm. This story is dedicated to every person who gave of their hearts and hands in their time of need. Some details have been changed, but basically this is what took place on that farm on May 21, 2004.
Exploring the World Around You, Gary Parker -- A Look at Nature from Tropics to Tundra. This scripturally-founded book opens a window to the spectacular environments found on our planet, and is a wonderful learning tool complete with illustrations, chapter tests, and an index. Makes a wonderful supplement to any homeschool curriculum.