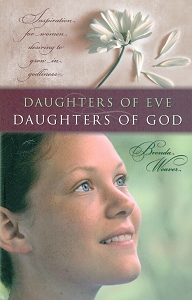 Daughters of Eve know the discouragement of failure, defeat, and fruitlessness. Their paths have been salted with tears of frustration and helplessness. Higher ground often seems distant and out of reach. Is there hope?
Yes! A loving Father, who understands the inherent weaknesses and struggles of women, extends to every woman a royal invitation to become his very own daughter. Those who accept find themselves lifted, nurtured, and carried by his great love and grace, regardless of the circumstances.
Daughters of Eve, Daughters of God has the ring of experience. As a fearful five-year-old, the author watched her own family break apart. Heartbroken, she could not imagine her empty longings ever being fulfilled. Years later she could look back and see God's powerful, redemptive work. Woven through this book is her testimony of God's remarkable grace.
232 pages. Paperback. Christian Light Publications. Brenda Weaver.
Published in 2007.
For more details as well as the option to buy: Daughters of Eve, Daughters of God
Topics: New Products | 1 Comment »
One Response to "Daughters of Eve, Daughters of God"
Wendy Boyd Says:
April 9th, 2008 at 1:01 pm

Let's remember to pray for Brenda Weaver. She and her husband John recently lost their son-in-law to brain cancer. It's a very sad and difficult time for them and their daughter Lori. Lori and Kevin would have celebrated their first wedding anniversary in June. Now Lori is adjusting to life as a young widow, and trying to manage Kevin's logging business.

John and Brenda live in the eastern U.S., and Lori lives in western Canada. The distance adds to the pain.
Comments